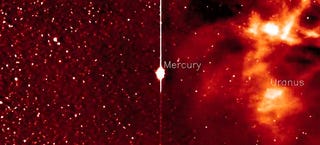 A camera on board NASA's STEREO A satellite seems to have captured video of an unknown thing that looks like an actual spaceship. The blip appeared when a Sun's coronal mass ejection (CME) reached planet Mercury. Watch the video and judge by yourself.
Update: whatever it is, it appears on the images taken by STEREO twin satellite too. Check out the new video, taken at the same time, taken from the opposite side of the action.
Make sure to run the video at full screen.
What is happening in the video?
The video shows a coronal mass ejection coming from the Sun and reaching the planet Mercury. Coronal mass ejections are massive explosions of solar wind, radiation and magnetic fields that go well beyond the solar corona, deep into space. They are so big that sometimes they reach Earth.