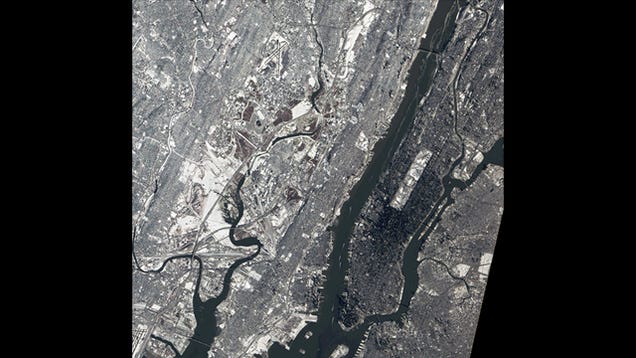 In its first 47 years, the Super Bowl has always been played in a warm-weather location or indoors. Miami and New Orleans have each hosted the championship game of American football ten times, and other warm locales have hosted 23 games. Another four games have been played in cities with cold and snowy winter climates—Indianapolis, Minnesota, and Detroit (twice)—but each time the stadium had a dome.

In the image, the south end of the stadium casts a long winter shadow over the field. Metlife is part of the Meadowlands Sports Complex, which includes the Meadowlands Racetrack (horse racing) and the Izod Center (indoor arena, east of Metlife, along the New Jersey Turnpike). A crust of snow, ice, and salt make the surrounding parking lots appear gray.
According to the the National Weather Service forecast, it will be cloudy, with a high of 48F (9C), and a low temperature around 28F (-2C). There's "a 20 to 30 percent chance of rain before the game and of snow after it."
---
SPLOID is a new blog about awesome stuff. Join us on Facebook