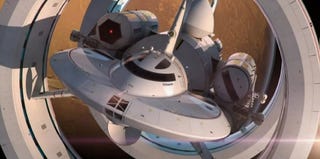 Dr. Harold "Sonny" White is still working on a warp drive at NASA's Johnson Space Center. His work is still in the experimental stage but that doesn't mean he can't imagine what the real life Enterprise ship would look like according to his math.
You're looking at it right now.
This is the starship that may take us where no human has gone before. And it has me screaming like a little Klingon girl.
Concept 3D artist Mark Rademaker told io9 that "he worked with White to create the updated model, which includes a sleek ship nestled at the center of two enormous rings, which create the warp bubble."