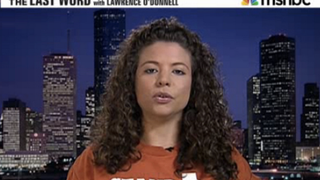 Sarah Slamen—the woman who was unconstitutionally kicked out of a Texas Senate abortion bill hearing by its Republican Chairwoman Jane Nelson—got to complete her speech slamming the dreadful law and its shameful sponsors live on MSNBC's The Last Word. Unfortunately, the bill will pass.
The Texas Legislature has gone completely bonkers trying to pass absurdly restrictive abortion laws, part of a larger jihad against women, black voters, students, history, free speech and the environment. This brave Texan, Sarah Slamen, just declared war on Texas legislators. Her side will ultimately win.
Furious over the failure of his personal crusade to ban abortion in the state of Texas, Governor Rick Perry has called for a second "special session" of the Texas legislature on July 1. Last night's attempt to all but illegalize abortion failed after a 15-hour filibuster by Democratic state Senator Wendy Davis.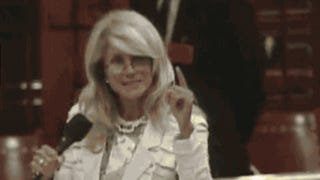 Democrat Texas State Senator Wendy Davis has defeated the draconian Republican-sponsored anti-abortion bill, the toughest in the country. She stood up filibustering for 13 hours straight, without any physical aid at the senate floor. The law would have virtually banned abortion in the Lone Star state, reducing…
This is State Senator Wendy Davis three hours into her filibustering effort to stop a new Texas' anti-abortion bill. She has to keep standing and talking for 13 hours in order to defeat the Republican-sponsored text, which will virtually ban abortion in the Lone Star state reducing clinics from 47 to just five.