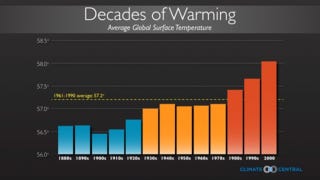 "The coldest years now are warmer than the hottest years before 1998." Those are the words of World Meteorological Organization secretary-general Michel Jarraud at the presentation of their latest report.
The WMO report says that, looking at the data from January to September, 2013 will be the seventh warmest year in recorded climate history.
The report comes just after one of the strongest storms in history, which broke all the scientific scales. The catastrophe in the Philippines is just another step up in this spiral of increasing weather destruction that is affecting the planet. Jarraud said, however, that "although individual tropical cyclones cannot be directly attributed to climate change, higher sea levels are already making coastal populations more vulnerable to storm surges. We saw this with tragic consequences in the Philippines."