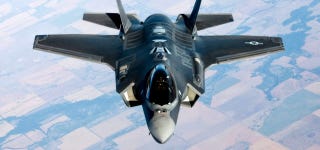 DefenseTech has a good summary of a recent 60 Minutes segment on the F-35, America's most expensive combat airplane yet. The Pentagon talks about how it uses "Star Wars-level technology." The pilots, however, aren't so enthusiastic.
RD-D2 vs HAL 9000
CBS News' national security correspondent David Martin says that the airplane's Autonomic Logistics Information System (ALIS—pronounced Alice) is like R2-D2 "because it really does control what the F-35 can do... She looks basically like a laptop computer and the pilot carries it out to the plane and sticks it in a slot right next to him in the cockpit and that contains all the information about the mission he's going to fly." It does sound like an armless, charmless astromech droid to me.
However, this artoo has its main brains elsewhere—about "the size of a shipping container." A brain that has a logic so rigid that it sounds like an evil HAL 9000, says DefenseTech. Here's what Col. Rod Cregier—the Air Force F-35 test program chief—has to say about her:
Even though the maintenance person knew what part he needed to put on it, ALIS was telling him, 'No, you needed this other part.' ALIS thinks she knows everything about the airplane. She won't let you do anything counter to herself.
That doesn't seem like a very good system to me.
Luke Skywalker's helmet
According to Air Force Lt. Gen. Christopher Bogdan "the helmet itself is Star Wars—it's what you see in a Star Wars movie." Of course, Bogdan has probably never seen Star Wars because the helmet has nothing to do with the movie but, that aside, it's pretty awesome stuff.