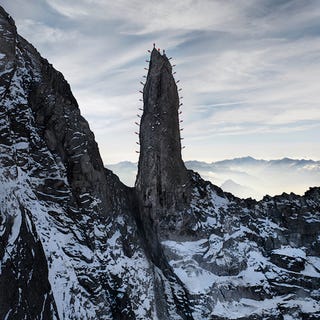 We have covered Robert Bösch's photos featuring a hundred alpinists doing crazy things before. but here are the complete series because they are simply beautiful and amazing. Some are pretty damn crazy too, like the one above.
Robert Bösch is a master in geography from the University of Zürich and mountain who has worked for more than 30 years as a freelance photographer. His beautiful work has been published in Stern, Geo, Spiegel, and National Geographic.
You can buy his books here and follow him on his website.
---
This is part of a series in which we are featuring futuristic, alien-looking or just plain awesome images of landscapes, cityscapes, and objects. If you are a photographer with such work, please drop me a line here.
---
SPLOID is a new blog about awesome stuff. Join us on Facebook