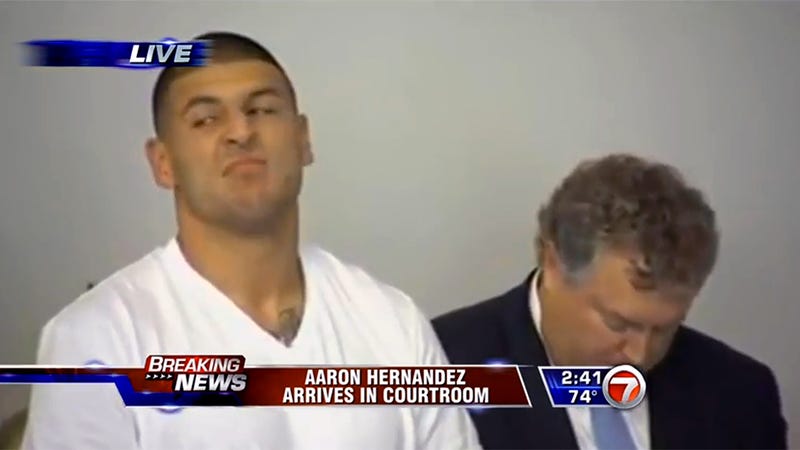 New England Patriots' star Aaron Hernandez has been charged with the murder of 27-year-old semi-pro football player Odin Lloyd. According to the prosecution, the 23-year-old player "orchestrated the execution." Lloyd was dating Hernandez girlfriend's sister.
Latest Updates
Monday, June 26, 2013 2:43PM—New England Patriots' star Aaron Hernandez was taken to the Attleboro District Court shortly after 2:00PM, where has been charged with the murder of Odin Lloyd and five counts of firearm possession.
9:00AM—Aaron Hernandez was arrested this morning, taken to the Attleboro police station to be booked, and released a few hours later.This image shows the exact moment the police arrived to his house.
The Story So Far
Friday, June 21, 2013 8:50AM—WBZ says now that a warrant for his arrest has been issued. The charge: obstruction of justice.
Thursday, June 20—Hernandez drove this afternoon for 30 minutes as news helicopters and reporters chased him through the city—a bit a la OJ Simpson (coincidentally, that chase happened 19 years ago the day before.) The helicopters lost him as he entered the building in which his lawyer's office is located. Numerous reports said that the police had already questioned Hernandez before the report of his rumored impending arrest.
According to witnesses, Aaron Hernandez was with the victime the night of the crime. The Boston Herald says the Sports Illustrated report on the "likely arrest" of Hernandez is not true.
Wednesday, June 19—Reports have identified the murder victim: 27-year-old Odin Lloyd. Lloyd was dating the sister of Aaron Hernandez's girlfriend.
Tuesday, June 18—23-year-old New England Patriots player Aaron Hernandez has been questioned by Police as part of an homicide investigation.
You're reading Front, the showcase of the very best, must-see stories and discussions from Gawker Media blogs and the Kinja universe. Follow us on Twitter.