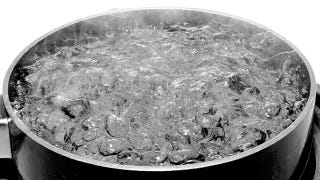 With a breakthrough that will hopefully eventually trickle down to tea kettles, coffee machines, and even showerheads, researchers at the Hamburg Center for Free-Electron Laser Science in Germany have devised a way to boil water to 600 degrees celsius in less than a trillionth of a second. To put that into…
Either that or there's going to be a lot of squished people needing to be scraped off the tiles at the deep end. Currently under construction at the Schlitterbahn park in Kansas City, the Meg-a-Blaster slide will open in Spring 2014, dropping people from nearly 140 feet up.
For centuries, scientists have puzzled over a counter-intutive observation: hot water, for some reason, seems to freeze faster than cold. Fortunately, now a team of physicists has worked out why it happens.
Contrary to what you may have seen in such movies as Pixar's otherwise extremely entertaining Finding Nemo, whales don't spray water out of their blowholes. Further, the whale's trachea doesn't connect to the esophagus of the whale; so when Dory and Marlin went down the whale's throat, in real life, they'd have…
This is incredible. Scientists have found an underground water reserve in Kenya so large that it could meet the entire country's water needs for the next 70 years. Using satellite, radar and geological technology, scientists found an aquifer—an underground layer of water-bearing material—that contains 200 billion…
Technology Review has released its annual "35 Innovators Under 35" list, which honors young visionaries in science and engineering. One fascinating project comes from a Mexico City urban designer, Enrique Lomnitz, who created a cheap technology that could solve his city's problem with water resources.