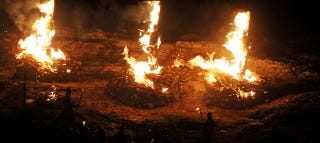 This new Game of Thrones scene was recently filmed in Ballintoy Harbor, Ireland. Who the hell is getting burned here?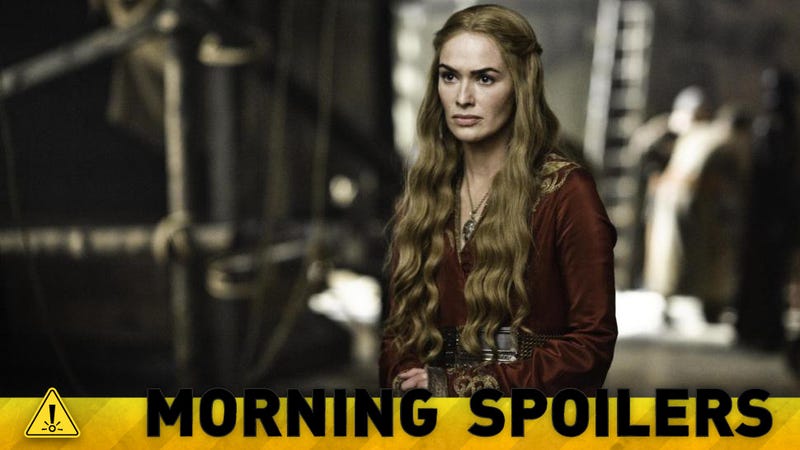 Joseph Gordon-Levitt denies those Ant-Man rumors, the first photos of Arrow's take on Black Canary have arrived, and Robert Kirkman says things will only get worse on The Walking Dead. Plus, is a viral website setting up the villains for Amazing Spider-Man 2 and beyond? Spoilers now!
Amazing Spider-Man 2
The Daily Bugle tumblr account is ramping up viral marketing in anticipation of Amazing Spider-Man 2's upcoming release. It's posted a fake story titled "Oscorp Biz Holds Steady," which bridges the gap between the events in the original and the sequel. Here's the full text of the story:
Despite the assault on Oscorp Tower two weeks ago and the revelation that disgruntled Oscorp employee, Dr. Curt Connors, was responsible for the attack, Oscorp's stock has climbed four points.

Oscorp spokesman Douglas Menken provided some details from the meeting, including that the construction on the prototype alternative energy power plant, complete with hydroelectric tower, is on schedule for completion within the next year.

Other highlights included a preview of a flight harness for the military and significant advancements in robotics by the head of the engineering division, Spencer Smythe.

Oscorp personnel dismissed questions regarding Norman Osborn's health and whether the company's estranged heir apparent, Harry Osborn, is up to the task of running his father's conglomerate.

Menken stated, "Between the disappearance of Dr. Rajit Ratha, the rogue actions of a very unstable former employee and Norman Osborn's health concerns, everyone in the media will cry the sky is falling, but just the opposite is true. While everyone else ducks for cover, Oscorp is always reaching for the stars."
There are a number of hidden clues in this for the comic-savvy. First, the "hydroelectric tower" ties in with Jamie Foxx's Electro. Second, there's the mention of "the head of the engineering division, Spencer Smythe," a villain in the comics whose specialty in robotics and spiders leads to the "Spider-Slayers." Third, is the reference to Dr. Rajit Ratha, who was played by Irrfan Khan the first movie. He was slated to die, but the death scene was cut, and Rath is the villain "Protogoblin" in the comics. Fourth, we're reminded that something's wrong with Norman Osborne, since the article mentions his "health concerns."
Like other bits of information – the Rhino being introduced in this film, but Paul Giamatti saying he'll be in Amazing Spider-Man 3, for example – this article seems to be hinting once again at the Sinister Six, a team-up of Spider-Man's villains. [First Showing]
---
Ant-Man
Joseph Gordon-Levitt denies being in the running to star in this film, saying that the rumors of him doing screen tests and readings are "nothing but lies.":
There are always rumors. I talk a lot about my future projects, so if you haven't heard me talk about it, it means it's nothing but a rumor. People like to write about [rumors].
---
Jurassic World
The latest Jurassic Park has cast Nick Robinson (The Kings of Summer) to play the older brother of Ty Simpkin (Iron Man 3)'s character. [First Showing]
---
The Hunger Games: Catching Fire
Here's the first TV spot for Catching Fire. [Coming Soon]
---
Game of Thrones
Here are photos from a recent night shoot in Ballintoy Harbor, Ireland. While the photos are from too far away to see exactly who's being burnt at the stake, we know Carice van Houten was filming on location around this time, and you might be able to glimpse Melisandre, Stannis and Davos in one photo. Speculation has it this is Melisandre doing some human sacrifice to put Stannis on the throne — or possibly, Stannis runs into difficulties in his journey to the Wall, and Melisandre sacrifices some prisoners to speed his passage. [Padraig Pearse McShane via Winter Is Coming]
---
Beauty and the Beast
Here's a preview for next week's episode, "Liar, Liar":
---
Supernatural
Executive producer Jeremy Carver says Dean's decision to let Ezekiel heal Sam is going to have major consequences for Dean:
It's a life saved, arguably at the expense of other lives. It's a tremendous burden on Dean. The decisions he's made are really going to drive mythology in ways that he never really expected. The secret is going to affect not just [Dean and Sam], but their world around them.
He also teases episode 3:
We always mentioned the angelic factions of Heaven. We'll be introduced to one of the leaders of these factions in Episode 3, and his name is Bartholomew. [And Castiel will be dealing with] the enormity of what's happened to him. He's going to have to adapt. And he's going to have to get back to the Winchesters. … Neither one of those desires is going to play out exactly the way he was hoping.
More at the link. [TV Line]
Carver also says that there are two fun episodes coming up. One with the brothers becoming "born-again virgins" and another where Dean finds he can talk to animals. [E! Online]
---
Sleepy Hollow
At New York Comic Con, co-creator Katia Winter teased that we'll being see more of the connection between her character, Katrina, and her on-screen husband, Ichabod:
I think you guys haven't had the chance to actually see our connection [meaning Mr. and Mrs. Crane's], and I think you're going to in upcoming episodes because there is a lot of chemistry there. [. . .] It's just that Katrina hasn't been featured as much. I can't wait for you to hear more from her and her backstory.
And co-creator Alex Kurtzman explained that this season is already started to set up season two:
As part of conceiving this season, we figured out a way to springboard into next season. So, there's a lot of things that are going to be set up now that will become substantive next year. The most important thing for us right now is to really concentrate on this season and make every episode great, and know that we have this wonderful road map that we're all painting together. We are just unbelievably excited.
---
Arrow
According to Stephen Amell, there are no shortages of villains this season, and that there are two "Big Bads." [E! Online]
Vertigo will be returning this year and setting up a possible appearance from someone from Roy's past. And executive producer Marc Guggenheim is teasing John Barrowman's return:
We said at Comic-Con that John was coming back — but we didn't say when and we didn't say how. So, I'm going to continue to not spoil that. But I will remind everybody that you know we tell stories in two different time periods — we're actually doing an episode where Oliver sort of has hallucinations, we're doing flashbacks from different people's perspectives. OK, I'll make a joke — we've got a lot of different arrows in our quiver. So just because you think you may know something doesn't mean that you know how it's going to happen.
Guggenheim also reveals that there's another fatality on the way.
There's also going to be a challenge to the Oliver/Felicity relationship, as Barry Allen and Felicity have great chemistry. And executive producer Andrew Kreisberg hints that we're going to learn about Summer Glau's character history in episode eight:
She has a surprising connection to the Queen family, which will be revealed in episode 8. She's not an adversary for the Arrow, she's really an adversary for Oliver.
Here's a clip from tonight's episode "Identity":
Here are the first photos of Black Canary, which are probably from episode 2.04, "Crucible." [Coming Soon and SpoilerTV]
---
Once Upon a Time
Josh Dallas (Prince Charming) says that Peter Pan is the Big Bad here. As if you had any doubt:
What's the biggest obstacle to finding Henry?

Peter Pan. Peter Pan is the biggest obstacle for everyone. This guy is nasty. He's a nasty piece of work and along with everyone's individualness, that's going to be everyone's obstacle as well.
More at the link. [Buddy TV]
Go here for a complete set of photos from "Nasty Habits," showing an confrontation between Rumpelstiltskin and Peter Pan. [TV Line]
---
The Walking Dead
Robert Kirkman explains that this season's going to get worse and worse for the characters:
It is escalating I guess to a certain extent, but that's because as the characters move further and further away from civilization, they're going to start encountering more and more dangerous people. That's not by accident. Things do get a little bit harsher. But it's a violent world and we have to realistically portray that or people won't buy this story. And to that, people gots to die, I always say. And they have to die in horrific ways. So it's going to be pretty gruesome in some ways, but it's always about character at its core. As long as we maintain the show's humanity, I don't feel that we lose our way.
---
Person of Interest
At a press event, executive producers Jonathan Nolan and Greg Plageman hinted at a bunch of things yet to come this season. The season will tackle how the Machine decides what numbers to give and who to save and, when he gets more than one number, how Finch chooses. Carter's story, as we may have guessed from her hidden clue wall, will be wrapped up in HR. The producers think this is a "really juicy storyline" that will continue to evolve to address what she is up to and how she plans to take them down.
Finally, the executive producers hinted that, if you've been listening closely and know your science fiction, you'll already know what's coming next season. [Buddy TV]
---
Being Human
Anna Fricke explains the theme for season 4, saying:
This season is 'Destiny.' And we've talked about that a little bit. I think that's partially us sort of hearing fan feedback, and also us doing what we like to do the best which is really about these guys, and bringing the characters together. So it's really exploring the fact that everything happens for a reason. These people are together for a reason and that they are crucial to keeping each other human. And it's really about that, I'd say.
This season will also see the return of Jesse Rath as Sally's brother Robbie. Also, while no one is saying how or why she returned, the woman at the end of season three is Aiden's wife. We've also been warned to watch out for episodes eight and nine, which are "very special." And here are a few set photos. [Cinema Blend]
---
Dracula
Take a look at this group photo of the cast. [Spoiler TV]
---
American Horror Story: Coven
Ryan Murphy says that, while this season is pretty female-dominated, we'll get a bunch of male-stuff:
The men stuff really kicks in around episode six, that's when Danny Huston comes on board with a really great adult love story that I'm quite proud of.
The second episode will explain how Kyle can be dead with Evan Peters as series regular. The hints seem to be that magic'll bring him back – but not the way he was before. [E! Online]
Here's a brief synopsis for episode 3.06, "The Axeman Cometh":
Zoe, Queenie, and Nan make contact with a dark spirit trapped in the Academy. Cordelia's new power brings on a heartbreaking revelation
---
The Originals
Davina's going to get a love interest played by Shane Coffey, but a run-in with Klaus will put an end to that. [E! Online]
---
Tomorrow People
As great as Dan Stevens is as the voice of TIM, exec producer Phil Klemmer says there are no plans to actually see Stevens in the show. [E! Online]
Here's a clip from tonight's "In Too Deep":
---
In the Flesh
The BBC Three show has started filming its second season, with creator Dominic Mitchell saying:
Returning to Roarton village has been a real joy, revisiting old characters and inventing new ones, entangling their lives and their loves. My hope is that In The Flesh series two will have something for everyone: with high octane genre thrills running alongside emotional, hard hitting domestic drama, with plenty of black humour to boot.
Actor Luke Newberry says that his character's going to be very affected by the arrival of some new faces:
I'm very excited to continue on Kieren's journey, and am delighted In The Flesh will be returning for a second series. New characters arrive in Roarton introducing him to further challenges and new dilemmas, as he begins to feel trapped between the living and the dead.
---
Witches of East End
Here's the synopsis for episode five, which will be called "Electric Avenue."
Ingrid mourns for Adam; Joanna and Harrison take their friendship to the next level; Freya meets Dash's ex-fiancée when she returns to deal with unfinished business.
And here are some more photos from this episode, once again featuring Freddie Prinze, Jr. [SpoilerTV]
---
Revolution
Here's the synopsis for episode 2.07, "The Patriot Act."
Rachel is faced with unsettling truths; Miles tries to overcome obstacles; Charlie and her mother share a moment.
---
Grimm
Episode 3.03 will be called "A Dish Best Served Cold." Here's the synopsis:
Disturbing crime scenes resurrects an old feud; news spreads about a royal family member's demise; Rosalee and Monroe talk about their relationship.
---
Ravenswood
Go here for a complete set of promo photos for the ABC Family show. [SpoilerTV]
---
The Originals
Episode six will be called "Fruit of the Poisonous Tree." [SpoilerTV]
---
Lost Girl
Here's a promo video for season four. [TV Equals]
Additional reporting by Emily Stamm and Charlie Jane Anders